Everybody knows massage is great for relaxation, but it is also an incredibly effective way to decrease injury recovery time! Our chiropractors and physical therapist may refer patients to our licensed massage therapists (LMT's) to help accelerate your body's healing response.
Here are some of the benefits of therapeutic massage:
Enhances blood circulation to help with injury healing
May lower blood pressure
Relieve muscle tension and spasm
Softens scar tissue
Restores range of motion following injury or inactivity
Helps reduce and prevent the occurrence of headaches and migraines
Promotes stress relief, relaxation, and a healthy sleep cycle
Your muscles are constantly incurring damage. After an injury, your body will start to repair, but sometimes even natural processes can use a little encouragement. Our therapists may utilize various modalities to support their massage such as heat, assisted stretching, cupping, or use tools to break up scar tissue. Injured muscles will receive focused work along with surrounding structures to create a feeling of balanced relief. The goal of massage is to soothe tension, improve mobility, and work through all those "knots" to help bring you towards a full recovery.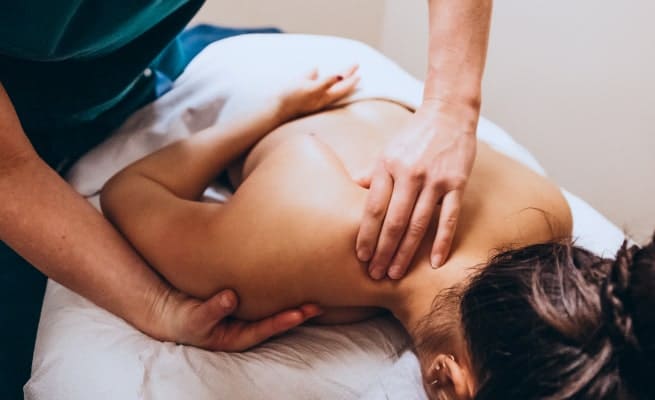 Dr. Ibolit's massage therapists offer a wide variety of massage styles. Their extensive training allows them to provide you with a truly customized therapeutic session. Every session is specific to what your body is experiencing that day and can include more than one style (or modality) of massage.
Massage modalities offered at Dr. Ibolit include but are not limited to the following:
Swedish: utilizes light to medium pressure. Gliding, flowing strokes help apply lotion/oil, focuses more on full-body relaxation, and gently soothes inflamed tissues. Swedish is a good introduction to massage.
Deep Tissue: generally includes medium to deep pressure. Deeper layers of muscle are accessed with slow, sinking strokes or compression. This is very effective for treating chronic conditions.
Trigger Point Therapy: focuses on specific points of tenderness/pain in muscle tissue that often refer sensation to a surrounding area. Points are specifically isolated to release tension and discomfort.
Sports: is great for treating specific injuries. This style can include assisted stretching among other techniques and aims to improve mobility, function, and is more invigorating and treatment-oriented than relaxing.
Prenatal/pregnancy: accommodates mothers to be. Patients may choose to lie on their side during the session or use our cushion system to allow them to comfortably lie face down, protecting their growing baby as their hard-working body is nourished head to toe.
What to expect from your massage
Technique and intensity of pressure used during your session may cause some muscle soreness after receiving massage. Most people experience feelings of relaxation and a reduction in physical discomfort. The end of the massage is only the beginning of your body's healing response. During the following 24 hours, as oxygenated blood is delivered to your muscles, you should begin to feel the long-lasting results of your massage.
Your part
Communication with your massage therapist about your symptoms and how you're feeling during the session helps them provide the best level of care they can. Drinking plenty of water afterwards will help deliver nutrients to your muscles. Your therapist may recommend applying ice or heat to support the work they have done. Good self-care, proper body mechanics and maintaining good posture can prevent re-injury.
Chiropractic may help
After a chiropractor places a diagnosis, the massage therapist will have a much clearer idea of how to best treat you. Your chiropractor will work closely with the massage therapists to monitor your treatment, recommending changes to maximize success. Prescribing some stretches and even light exercise may be made to maintain relief.
Physical Therapy may help
Some patients require strengthening and stabilization along with massage and chiropractic care in order to return to pre-injury status. A physical therapist can identify the imbalances in your body and help create long-lasting results. If you are unsure if this type of treatment is right for you, our clinic offers free physical therapy consultations. 
Tight-knit team for a tight-knit body
The team at Dr. Ibolit Chiropractic, Physical Therapy & Massage is ready to help you uncover the steps needed to restore your body's mobility.
Our massage therapists are experienced in applying massage correctly for any condition, including whiplash, sciatica, or severe sprains.
With 7 fully-certified, experienced massage therapists on staff, you can be confident we've got you covered. Our team of doctors and massage therapists work directly with patients to make sure massage is effective, focused, and of course – relaxing. We want you to walk out of our office feeling good!